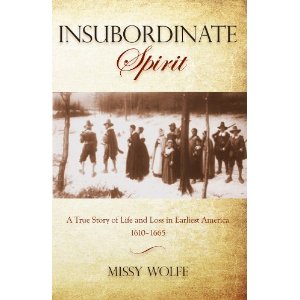 I received a most interesting letter in my email last week out of the blue, mind you she must have known of me, but I not of her.  The email was from Missy Wolfe and it was telling me about a book she had written about life in early New England 1610-1665 it was entitled Insubordinate Spirit.  I found it even more interesting that I had just completed another book about another  person that possessed such a spirit among again some of the first settlers of New England, Martha Allen Carrier. It seems that things like this come in threes, my mother was also  reading the Traitors Wife, which is also a book about Martha Carrier.  These last two books about Martha Carrier are historical fictions written by Kathleen Kent and are well done.  The first book is by Missy Wolfe and it is actually a non fiction history of Elizabeth Fones Winthrop Feake Hallett's life and times. Need I say, being a Hallett descendant,  that it took me no time to get to Amazon.com and order the book and read it.
Insubordinate Spirit-A True Story of Life and Loss in Earliest America 1610-1665 is a well written book. I found it very easy to read and very easy to follow. Missy tells of life and politics and religion and the play between these institutions and the effects they had on Elizabeth and her family. The book is not highly technical in that it is not in legal jargon but in layman's terms. She has done her homework well and  found some very interesting information on Johana Winthrop Lyon, Elizabeth's oldest child from her first marriage to the son of John Winthrop Sr. , her Uncle and then also her father in law. I am glad I read it and I think after reading it, I just might need to re-read the Winthrop Women a historical fiction by Anya Seaton , knowing and understand a little more of what was going on in her surroundings. I am sure will make that book even more interesting.
You can find the book at Amazon.com. I will gladly add this to my genealogy book collection.
Happy Hunting!
This piece is unsolicited and my work. I received no compensation for writing this piece.
My lineage from William and Elizabeth Hallett is:
1-William Hallett
+Elizabeth Fones
2-Col. William Hallett
+Sarah Woolsey
3-Rebecca Hallett
+James Jackson
4-General Joseph Jackson
+Mary Rodgers
5-Daniel Jackson
+Jamima Benjamin
6-Silas (2) Jackson
+Mary Polly Peterman
7-Jamima Jackson
+Samuel Craig McCartney
8-Silas Jackson McCartney
+Nancy "Nannie" Curl Terry
9-Arthur Cellus McCartney
+Christina S. Cutter
10-Willard Warren McCartney
+ Adela Ruth Ogilvie
11-James R. McCartney
+ Dency J. Terrill
12-Julia K. McCartney
+ James E. Hogston
Julie Hogston - Visit Website