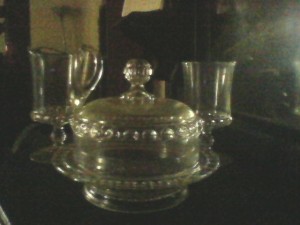 This celery , butter dish and creamer are thought to have belonged to my second great-grandmother Julia Sarah Clark.
I recall my grandmother saying to me in my early teens that one day, sadly that day came as it does for all of us, that this piece would be mine. Grandma told my mother that it belong to grandma, now we are not sure if she meant, her mother or her grandmother. All of us have said to our children grandmother when we were talking about our Mom's.
Mom will be visiting with her sister later this week and hopefully we will find out exactly who's it was. At this moment the guess is that it belonged to Julia, this is the grandmother that I was named for.
Julia Sarah Clark was born to William and Delila Citerly Clark  on 24 Nov 1854 in the city Mentor in Lake County, Ohio. Julia died 19 Sep 1928 in Newton Falls, Ohio. Julia married on 1 Oct 1878 to Dr. Wesley Lake Beach who was born on 20 Jun 1844 in Mayfield, Geauga County, Ohio and he died 27 Nov 1917 in Geneva, Ashtabula County, Ohio.
Treasures come to us in many ways, this is one that I can actually touch, though not often for fear of breaking them, that recall and bring back to us those that have gone on before us.
Happy Hunting!
Julie Hogston -
Visit Website