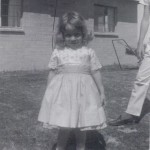 Julie's From Where?
I am from the sunny hill country, from peaches, apples and Longaberger Baskets.
I am from an adobe home in the shinning sun, from a bungalow shaded under a maple tree on a quiet little street in an awakening town.
I am from the land of the Maple, Pine and the mighty Oak. Graced for a time with the mighty Saguaro, the state flower I dwelt under as a very young child.
I am from Terrill, McCartney, Upson, Ogilvie and many more. From hard workers, make doers, from preachers and teacher all who had joy and sorrow and lives like us all.
I am from the farmer that plowed the fields or gathered fruit and the minister who tended to a different kind of fruit and tended a loving flock.
I am from a family that thought of others and believed in the golden rule. We were told to do our best and to be happy in our circumstances. If we had a chance to improve then we should. To understand that it not the money one makes, but what of value you're living  left behind that was of importance.
I am from the Puritan and Presbyterian all seeking to praise their Lord in freedom. I now enjoy that freedom as a Baptist.
I'm from the Firelands stretching all the way back to the landing place of my ancestors at the City on The Hill.  Benton, Rowley, New Haven, Ashtabula, Yorkshire, Perthshire and Aberdeenshire are all places that were called home. I am from corn beef and cabbage to Waldorf salad.
From the veterinarians turned doctors, the soldiers and the chemists and all the ladies that stood beside them.
I am from lake sides, riversides and mountains grand, a back yard safe and secure to the tram climbing some majestic mountain side. From an orchard that surrounds a cozy cape cod, to a loving home by the side of the road.
I am from all these and more. I hale from ancient blood and foreign lands. I am the culmination of all these.
The above poem was written by suggestion of Randy Seaver at Genea-Musings for one of his Saturday Night Genealogy Fun projects. I thought it would fit very nicely here.

Copyright secured by Digiprove © 2014 Julia Hogston