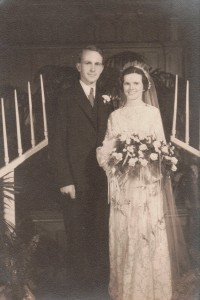 Willard and Ruth tied the knot on 2 November 1935 in Newark Licking Co., Ohio.
The bride was 30 and the groom 24. One thinks that the man robs the cradle, but here that was not the case! (giggling)
Willard (Mac) and Ruth met at a church social. I am guessing this happened before Mac was in Ruth's Latin class, she was his teacher.
Had Nana not passed away in April of 1985 they would celebrated fifty years of marriage that November. My Dad and Uncle were born in Newark Ohio in 1937 and 1939. They were living in  Mayfield Heights village, Ohio, at the time of the 1940 census.  I believe by 1942 or 1943 they were in Kirtland Ohio where they both spent the rest of their lives.
Grandpa worked for the Ohio Gas company. After  getting married, Nana gave up teaching. After early (forced) retirement Grandpa started farming full-time. They had an orchard, with apples, peaches, plums, pears along with at a truck garden. Nana also had a strawberry patch and she soon became known as the Strawberry Lady. I remember spending time picking strawberries and polishing apples. Among many other wonderful memories while spending time on the farm.
Grandpa passed away 11 yrs after Nana, in 1996.
They are both greatly missed.
Happy Hunting!
Julie