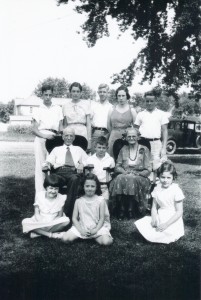 Children's children are the crown of old men,
And the glory of children is their father.
Proverbs 17:6
I often times wonder what my life might be like today if there had not been men of God in my family. What would my views on life be like, what would my circumstances be like?
I know that most of these men did not touch my life physically as at least four that I can name had passed before I was born. Great Grandpa Ogilvie,  Great Grand Uncle Alexander Kaye and Great Grand Uncle James R. Kaye and last but certainly not least Great Uncle Harry Bush, where all men of the cloth. Really at this point I must say had it not been for James and Alex, I would probably would not be writing of this family.  The story goes that Alex and David were in Seminary together at  the Chicago Theological Seminary. As chance would have it Alex took his friend Dave home to a good home cooked meal and matters of the heart ensued. Dave's eye fell on Alex's sister Barbara and the rest is history. Their marriage took place on 17 May 1887 in Chicago Ill.
It says in the bible James 5:16….The effective, fervent prayer of a righteous man avails much. I must wonder if the prayers of these men's parents were answered. I know that Alex and James' father kept them in prayer even when James was not yet born. James was born shortly after his father, Byron's, death. In a letter written by the mother Ellen shortly after the death of her husband she wrote this…
"I can give you but a brief account of your Dear Brothers last days on the morning of the 6th of March we had Breakfast at 7 oclock  we had worship as usual he read the 9th ch of the romans passed some remarks on the lecture the minister gave the evening before kneeled down & commended himself & family to the care of his heavenly father the children had gathered around me to say the Lords prayer  he turned round & looked at them left the house…"

Byron did not return home alive, yet if this is the habit he had in life he had his family constantly in front of the throne. I would dare say he would have been proud of his boy's, his son-in-law and at least one grandson-in-law.
Did the prayers of these men for their families bring blessing upon their families? Maybe from the outsiders eyes it might not seem so, but being among the children of children I can say my life has abounded with blessing, with loving and caring grandparents, parents, aunt and uncles. I would say that the great blessing is knowing that I am one of God's children and that he loves me beyond compare. This of course is only one part of my family. There are and were Godly men in my mothers lineage that must have prayed for their generations as well.
I guess my point in all this is that treasures come in all different forms, but I truly believe that the treasures we lay up in heaven are the lives of our loved ones and our descendants as we seek to follow the Lord and we place their welfare in the Lord's hands.