Amanuensis: A person employed to write what another dictates or to copy what has been written by another. From The National Standard Encyclopedia Amanuensis Monday was started on the Transylvanian Dutch Blog. This link will take you to the page concerning Amanuensis and why one should transcribe the records ! 
The letter below was written to my Grandparents and my Dad on the occasion of a visit from their Uncle and Great Uncle, James R. Kaye, the son of Byron and Ellen Smith Kaye of Woodstock, Ontario, Canada. This and a few more letters were found in a scrapbook that my grandmother started for my Dad. I have been sorting through them and getting them put away in protective coverings. As time allows I will post more.
Enjoy!
 Oak Park, Ill. April 30, 1938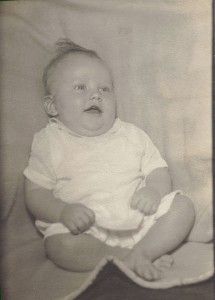 Dear Ruth, Mac. and Jimmie:
I had such a mighty fine time with you all that I have been lonesome all week, not with standing the fact that I have been swamped with work.
You cannot know what a good time you gave me, and I want you to know how deeply I appreciate it.
I have been seeing You, Mac, out in the strawberry patch. I do hope you have had our good weather and got in all the plants. I am sure the frost danger is past, and trust everything will conspire to give you a bumper crop.
I have been telling the folks that you have everything that could be desired in your little home. It is ideal. I will always be able to picture you in it, and visualize all your movements. There you are Ruth playing with Jimmie, he chewing up the bus and Mac smoking his pipe, and your mother getting the greatest happiness out of the baby. That is what I call ideal.
You will never know little Jimmie how much happiness I got out of being with you those days. It will have an enduring place in memory. You are a darling baby, and no baby ever had finer, more ideal parents and grandma than you, and no one every had a sweeter baby.
I have been telling the folks all about you, Betty, Jimmie and little Jean wanted me to tell them more, and Jean was just as much interested as the other two. She said "Jean see baby-Mimi baby,"
-2-
by which she meant she wanted to see Jimmie baby. She calls her brother "Mimi." They would all love to see your Jimmie.
Now, Jimmie, as I told you on the Columbus picture card, You and I , little pal, will get together some time for a joint birthday party. Won't we have a good time! The folks will be invited, and will have the privilege of doing all the cooking and baking and join in the eating.
What a happiness it will be to watch your growing life. What a joy you are and are going to be to your Mamma and daddy, because it will be impossible to find a finer boy and a finer, noble man in a week's ride.
I have given your mother the facts regarding the state of things here, Ruth, and my talk with Winnie.
Kiss little Jimmie for me often.
I am wishing for you all every good thing and every Divine blessing, remembering you all at the Throne of Grace, and that the Good Shepperd will keep you, protect and pasture the little in your home and keeping.
Marjorie and all join in love to you all.
Your loving Uncle,
Jim