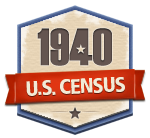 As many of you know I have been part of the large team that is busy indexing the 1940 Census. I indexed  a few pages in the Oregon census. There I ran across who I thought might be a cousin, but I had no information on this man and so I moved on.
In the past week or so a cousin of mine was working on part of the KAYE family that went from Ontario Canada to Wisconsin moving further west to Washington State then some of the descendants of Abel were found in, you guessed it, Oregon. Trying to pin down where Claude and John C. Kaye are located  in Oregon. Dave sent me some information that put one man in Clackamas Oregon and one in Milwaukie Oregon. I didn't have a clue if these were counties or cities so I did a search at Family Search and I found Claude in Clackamas Co. on you guessed it the page that I had indexed earlier. The enumeration district was only a voting precinct so I still didn't know what town. Using the road that he is listed on and doing a search on that road alone, I found a road that runs out of  Oregon City by the name of S. Redland Road. A dear friend of mine that lives in that area of Oregon said that was a major road in that area and that I was closing in on Claude.
I need to do so more digging and I am hoping I will find Claude's final resting place and that of John's as well.
Had I not been helping with the census, maybe that little piece might still be undone. There are thousands typing there little fingers off at The 1940 Census Community Project. What a feeling of accomplishment to bring up a page you know you transcribed.
Please remember this below outline, is work in progress and has not all been proven. Please take it  as a guide line and not the gospel truth.
This is a short outline of the Abel Kaye family:
Descendants of Abel Kaye
1-Abel Kaye b. 25 Aug 1838, Yorkshire, England, d. 16 Nov 1916, Ridgefield,
Washington, USA. (Clark Co)
+Eliza Wilson m. Bef 1874( I have more on this marriage, but it has not been put into my gen program yet.)
+Mary A. Kent b. Oct 1852, Wisconsin, m. 29 Mar 1874, Dunn, Wisconsin, d. 3
Aug 1932, Chehalis, Lewis, Washington
2-Sidney Kaye b. 17 Sep 1883, Dunn Co. Wisconsin, d. 7 Jul 1948, Marion,
Oregon
+Lula Louise Mattatall b. 20 Dec 1892, McPherson, South Dakota, m. 26 Jan
1914
3-Keith Kaye b. 19 Jul 1920, Ridgefield, Washington, USA. (Clark Co)
2-/Child Kaye/ b. Cir 1875, Tiffany, Dunn, Wisconsin, d. Bef 1900
2-Lillie Alice Kaye b. 29 Mar 1877, Tiffany, Dunn, Wisconsin, d. Feb 1970,
Molalla, Clackamas, Oregon
+Thomas Elmer Stratton b. 7 Sep 1873, Menominee, Dunn, Wisconsin, m. 24
Sep 1895, Dunn, Wisconsin, d. 16 May 1929, Enterprise,, Okanogan,
Washington
3-Albert James Stratton b. 22 Feb 1896, Menominee, Dunn, Wisconsin, d.
29 Sep 1963, Vallejo, Solano, California
3-Ralph Kaye Stratton b. 9 Jul 1898, Dunn, Wisconsin, d. 1 Sep 1961,
Clatsop, Oregon
2-Claude Kaye b. 7 Jun 1880, Tiffany, Dunn, Wisconsin, d. 23 Oct 1945,
Clackamas, Oregon
+Frances Yost b. 16 Apr 1884, Pennsylvania, m. 22 Aug 1907, Farmington,
Davis, Utah
+Anna H. Bridwell b. Aug 1877, Ohio, m. 19 Feb 1924, Multnomah, Oregon,
d. 16 Apr 1943, Multnomah, Oregon
+Jennie E. Cook b. 25 May 1880, Lyons, Ionia, Michigan, m. 10 Jul 1931,
Oregon, d. 17 Jun 1950, Orange, California, par. Seth B. /Cook/ and Annie
Elizabeth Bastione
2-Estella Kaye b. 23 Sep 1886, Tiffany, Dunn, Wisconsin, d. 21 Aug 1934,
La Center, Clark, Washington
+Emil Johnson b. 6 Apr 1882, Willmar, Kandiyohi, Minnesota, m. Cir 1905,
Washington, d. 8 Apr 1952, La Center, Clark, Washington
2-Harriet Irene Kaye b. Oct 1891, Tiffany, Dunn, Wisconsin, d. 21 Sep
1944, Vancouver, Washington
+Winfred F. Babler b. 19 Sep 1879, Monroe, Green, Wisconsin, m. 26 Feb
1916, Multnomah, Oregon, d. 9 Dec 1956, Brush Prairie, Clark, Washington
Looking at the dates and places, I am wondering if the family just might have traveled the Oregon Trail or at least part of it on their way to Washington. Hummmmmm something more to look into!
Happy Hunting!