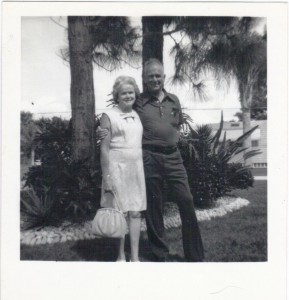 This is one birthday I never seem to forget, and I am not sure why. Perhaps there are a  lot of dates that fall within this first week of September, a wedding anniversary, a friends birthday, a nephews birthday. Maybe it is because the change of seasons, I really don't know but I do know not many years go by that I don't remember Nana on her day.
Nana was born Adela Ruth Ogilvie on September 6, 1905 in Clarence, Iowa. Her parents are Rev. David M. and Barbara (Kaye) Ogilvie who where married on May 17, 1887 in Cook County Illinois.
She went by her middle name Ruth rather than Adela. Nana signed her name after she was married Ruth O. McCartney, so she kept  her maiden name intact.
Ruth is the youngest of eight, consisting of 2 boys and 6 girls, it must have been very interesting for the youngmen in that household at times.Ruth must have had an excellent teacher in the kitchen, and was  a quick study, for when she was 12, she was  awarded for her cooking abilities.  Somewhere along the line Ruth decided  to teach and she pursued that profession. In 1930 census we find her teaching in the Doylestown Schools located in Wayne County, Ohio. In Doylestown I am told is where she met her future husband, my Grandfather, W. W. McCartney aka Mack, at a church gathering. Ruth was also his Latin teacher.
Mack and Ruth where married on November 2, 1935 in Newark, Licking County, Ohio. According to Ohio law at that time, she gave up her teaching, to become a full time wife and a mother to two boys. James and Thomas (Jimmy and Tommy ). I must say Nana never stopped teaching! She always had something to share, whether it be music, nature, grammar, etiquette. Nana played both organ and piano, she learned this at an early age from one of the organist at one of her fathers many pastorates. Ruth was the ogranist at Old South Church in Kirtland, Lake County, Ohio for a time.
By the time that I came along she was indeed a very busy lady, raising strawberries, helping grandpa with his orchard and garden and of course house work and her own flower gardens and all the other duties and hobbies that she had.
We as a family lost a treasure  to cancer on April 3, 1985, in North Fort Myers, Lee County, Florida. She now lies next to Grandpa at the South Cemetery on Rt. 306 (Chillicothe Rd.) Kirtland, Lake County, Ohio.
She is missed by many!
Happy Birthday Nana!
Happy Hunting