Input  S. J. McCartney, Fredericksburgh, Ohio  <search>      google is thinking >>>>>> an wha la!
The page populates and there is new information on my 2x great grandfather, Silas J. McCartney, I believe he went by Jackson. That is another story for another day.
What I found on these pages where many things that had already been posted concerning Jackson, but there was something new! I always love it when the pages have more then the stuff that I have already added to the internet myself, or when I don't find Paul McCartney until the third of forth page down!
The new information was actually a new genealogy that I had never seen before, which included Jackson.
From census records, I have been able to learn that Jackson was a farmer. I had not yet looked into the farm schedule which, gives you a pretty good idea of which husbandries they practiced. Many had both animals and crops other had one or the other. What I did find in the search was a digitized book on Google.com from the  Standard Poland-China Record Association, Maryville, Mo. You may ask what is Poland-China? I know I did and why was S.J. McCartney in this book? After all we are of Scottish descent or so I thought!
Poland-China, is the oldest American breed of swine. They were first bred in the Miami Valley in Ohio.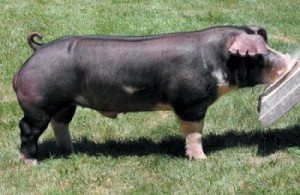 So this is where the genealogy comes in.  Jackson raised Poland-China swine and in this book it gives the names of the pigs that where bred how many pigglets and their sex. It also at least gives the parentage of the boar or sow.
Daisy
Farrowed April 11, 1888. Litter 11; raise boars 1; sows 5, Bred by Fred Kolb, Millersburgh Ohio sold to S. J. McCartney, Fredricksburgh Ohio, August 29, 1887; sold to Fred Kolb, Dec. 6, 1888; sold to J. N. Miller, Killbuck Ohio, Dec. 11, 1889.
Got by Tom's U.S.A. 14132 Dinah (41050), by Starvation 1986,-Ora (41049), by Blackhawk 291-Abbey Dell (1300)
Sadies Best
Farrowed Oct, 4th 1887 Litter 7: raised-boars, 2 ; sows, 3 Dark spotted Split in ear
Bred by S. J. McCartney, Fredericksburgh, Wayne Co., Ohio; sold to W. F. Rumbaugh, Holmesville, Holmes Co., Ohio, Jan. 31, 1889; still owned by him March 1889.
Sire Black Chief 10611; he by Monaco 2d, 9651 out of Pearl,24808
Dam
1. Sadie, 39978, by Tom's U.S.A. 10255 4. Daisy, 1374, by Abdallah, 651
2. Laura Bell, 29?66, by Luke Prince 5685 5. Blind Nelly Blye, 1254 by, Corry"s Buttler , 841
3. Nancy, 14492, by Lord Duplex 4009 6. Cheek, 2852, by Charley, 115
I have read that the low count of surviving pigglets is because the sows where so big that they had a tendancy to lay on the pigglets. Poland China are usually between 500 and 800 lbs, now that is a lot of bacon!
I now know two of his sow's names and what one of the comodities that he raised on his farm was and who their ancestor where.
This has been a fun adventure in genealogy ! Just never know what is on the next page to be found!
Happy Hunting!