Daniel and Elizabeth Jackson Jackson were married on November 8, 1836 in Knox Co., Ohio.
Daniel H. and Elizabeth are second cousins.  Elizabeth's parents are Silas and Mary Polly Peterman Jackson and her grandparents are Daniel and Jamima Benjamin Jackson. Elizabeth is my 3rd great-grandaunt and Daniel H. is then my 3rd great-uncle via marriage and my 2nd cousin 5 times removed.
Here are two picture that I found in The History of the Jackson Family of Hempstead, Long Island, N.Y., Ohio and Indiana. Descendants of Robert and Agnes Washburn Jackson.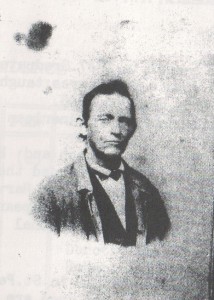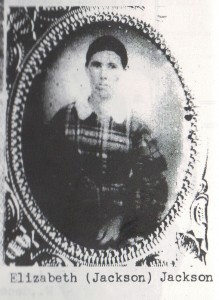 Daniel and Elizabeth are the grand-parents of the man who wrote the genealogy above, his name is Oscar Burton Robbins.
Daniel was born in Amity, Knox Co., Ohio on 3 Nov 1814 to David and Prudence Hathaway Jackson. He died 10 Mar 1904 in Whitley Co., Indiana.
Elizabeth was born in or near Benton Columbia (Northumberland) Co.,Pennsylvania along Fishing Creek. Her birthdate is 31 Aug 1814. She was the third child of Silas and Mary Jackson.  Elizabeth died 4 Jul 1863, Whitley Co. Indiana.
You can find pictures of their headstone on Find A Grave memorial number # 44809414
Daniel and Elizabeth's children are:
2-Mary Prudence Jackson b. 13 Jul 1837, Knox Co. Ohio
+David Jackson Neal
2-Lucinda Armenia Jackson b. 31 Jan 1840, Knox Co. Ohio, d. 12 Aug 1929
+Issac Allen Bradrick
2-Susan Jackson b. 1 May 1842, Knox Co. Ohio, d. 9 Oct 1843
2-William Logan Harris Jackson b. 3 Jan 1844, Knox Co. Ohio, d. 1 May 1905
+Ella Dickerson
2-Silas Albert Jackson b. 14 Jun 1844, Knox Co. Ohio, d. 15 Oct 1926
+Rebecca Rhodes
+Georgia Jay Norris
2-Olive Myra Jackson b. 7 Oct 1849, Knox Co. Ohio, d. 28 Aug 1902
+Justice Clinton Dunfee
2-Sophrina Doty Jackson b. 13 Jun 1852, Knox Co OH, d. 19 Jun 1933
+Dr. C. Robbins
+Simon P. Marsh
2-Lura Abi Jackson b. 26 Jan 1855, Whitley Co. Ind., d. 27 Mar 1937
+Albert W. Kaufman
It is believe that this couple may have had 4 more children that died in infancy, one birth being a set of twins.
I thought I might save you the connection to my children that this couple holds, I'll bet it is interesting as this is the family which my husband and I connect.  It's always fun what you run across as you are doing your family history.
Happy Hunting!
Julie