Today I celebrate the marriage of my first cousin 6 times removed Ziba Jackson and his lovely wife Phebe Lyon Jackson.
Their marriage took place  on 25 October 1798  according to an entry in New Jersey, County Marriages, 1682-1956
page 51

No.2 I Certify that the twenty-fifth of October AD 1798
I married Ziba Jackson of Pequannock township
Morris County New-Jersey to Phebe Lyon
page 52

of Mendham Township, County & State aforesaid
John J. Carles Minister
of the Gospels-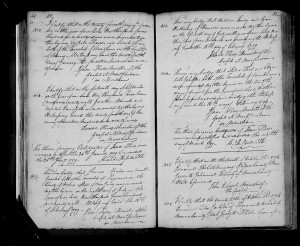 Ziba Jackson is the son of Benjamin and Abigail Mitchel(l) Jackson. Benjamin is the brother of Daniel Jackson, my 5th great-grandfather and Elizabeth Jackson Tompkin, my husbands 5th and 6th great-grandmother.
Ziba's birth is found in Rockaway Records of Morris County,  N.J. Families" by J. Percy Crayon. as 2 Feb 1777, in Rockaway, Morris Co., New Jersey.   On his son Issac's death certificate says he was born in Pennsylvannia and that Phebe was born in New Jersey. On this death certificate it does say that his parents are Ziba and Phebe Lyon Jackson.
This gentleman also served in the War of 1812.
Ziba and Phebe are found in Morris Township, Knox Co. Ohio by the 1830 census.
I find them both on F.A.G. buried in Old Fredericktown Cemetery
Also known as: Harmony Churchyard, Maple Grove Cemetery in Fredericktown, Knox Co. Ohio.
We find a list of five children for this couple at F.A.G. , I can only verify one and that is the above Issac.
Their children are as follows:
Aaron Case Jackson (1800 – 1879)
Nathaniel Mitchell Jackson (1803 – 1891)
Abbey C. Jackson Talmage (1810 – 1845)
Chalon Jackson (1815 – 1906)
Isaac Lyon Jackson (1823 – 1914)
We find a marker for his Uncle Daniel also at Old Frederickstown Cemetery, his actual burial is at Yankee Street Presbyterian Cemetery ,Chesterville ,Morrow County ,Ohio, USA. We also find his cousin's buried in Knox Co. Ohio as well. They would be my McCartney Grandparents.  Jamima Jackson McCartney wife of Samuel Craig McCartney being the above Daniel's granddaughter. If your keeping track she is 1st cousin once removed to Ziba.
Happy Hunting!