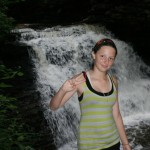 Thirteen years ago today Nov 30, 1999
You came into our lives in a quiet way.
Everyone had gone to lunch so that Momma could rest,
and as she rested you slipped into this world.
From those quiet beginnings came a young lady
That is full of ideas and the willingness to share them.
A blessing she is to those who know her.
A will that is hard as brick, which bore testimony in the 24 hours it
took for her to get here.
Her heart is even bigger and stronger than her will.
A heart that loves beyond what she understands and holds tight to those
that she loves. What a blessing she is!
She is a lovely young lady that a grandmother can truly be proud of.
We wish the blessing of a beautiful day!
May God continue to bless you.
Love Grandma